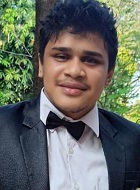 Congratulations to Mr. Aaron Antonio Andrade, Student of B.A. History (Major)-Portuguese-Minor), for winning the First Place in the State-Level Youth Political Manifesto Writing Competition for the Youth in Goa, organized by The Centre for Political Leadership, V. M. Salgaocar College of Law, Miramar, Panaji, Goa in January 2022.

In his manifesto, Aaron highlighted upon the importance of corruption free politics in Goa. He also spoke about making work places women friendly and made a few suggestions as to how the society can help the women to achieve a work and home balance. Moreover, Aaron also pointed out the need to introduce more self help schemes, youth empowerment schemes and over all spoke about how the welfare of the people would lead Goa to become a self empowered and self sufficient state.

The college is proud of his achievement!