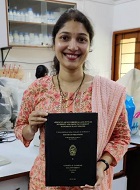 Congratulations to Dr. Sankrita Gaonkar, Assistant Professor, Department of Botany for being awarded Ph.D. Degree in Botany. Dr. Sankrita has successfully defended her thesis entitled 'Arbuscular Mycorrhizal (AM) Fungal Diversity and Growth Studies in Mangrove Plant Species of Chorao Island, Goa and Pichavaram Forest, Tamil Nadu' on 29th November 2021.

She has worked under the guidance of Prof. Bernard F. Rodrigues, Senior Professor, Department of Botany, Goa University. Her research work is published in international peer reviewed journals.

Dr. Sankrita Gaonkar, an alumnus of Department of Botany, completed her graduation from our college in 2012 and post-graduation from Goa University in 2014.

The college is proud of her achievement!.