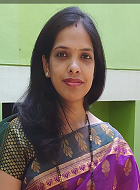 Congratulations to Ms. Padmini C. Panjikar, Assistant Professor, Department of Chemistry, for having published the following review article:
Banerjee, M; Panjikar P. C.; Das, D.; Iyer S. ; Bhosle A. A., Chatterjee; A. (2022). "Grindstone chemistry: A "green" approach for the synthesis and derivatization of heterocycles" Tetrahedron. 112: 132753-132805. Impact factor 2.457(2022).

The college is proud of her achievement!