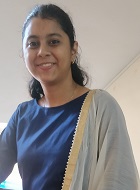 Congratulations to Ms. Deeksha Naik Talaulikar, Assistant Professor, Department of Geography (M.A. Geography), for qualifying the State Eligibility Test for eligibility for Assistant Professor, held on 26th September 2021 in the subject of Education.

Ms. Deeksha has earlier qualified for UGC-NET in the subject of Geography during November 2020.

The college is proud of her achievement!.