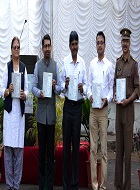 Congratulations to Prof. Nandkumar Sawant, Head, Department of Geography & Research Centre for releasing his book "Goa's Landscape Through Maps" on 19th December, 2022 at the hands of Prof. F. M. Nadaf, Deputy Director, Directorate of Higher Education Government of Goa in the presence of Dr. Ananya Das, Officiating Principal; V.C. Kumaresh, Vice-Principal and Major Dr. Gunaji Desai. .

The book provides an insight of various dimensions of Goa through maps. These maps are supported with write ups to provide readers with basic information of emergence of Goa as a region from historic times to present, encompassing physical, economical and demographical attributes. The book can be widely used by students, researchers and people keen to know about Goa.

At the release Prof. F. M. Nadaf gave a panoramic view of the book and stated that it has set up standards for the geography fraternity as the book is an outcome of research and analysis.