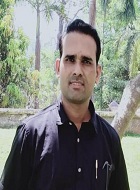 Congratulations to Dr. Pradeep Jatal, In-charge & Assistant Professor, Department of Hindi, for having published the research paper.

Jatal P.R. (2022). Samidha : Dharma ka Bajarikaran. Peer reviewed Journal & UGC Care List, Mumbai Maharashtra, SAMICHEEN 2022, July-September, 15(32) 30-34, ISSN No. 2250-2335.

The college is proud of his achievement!