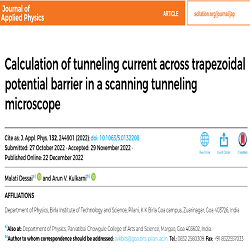 Congratulations to Ms. Malati Dessai, Assistant Professor, Department of Physics for having published the research paper.

Dessai, M., & Kulkarni, A. (2022). Calculation of tunneling current across trapezoidal potential barrier in a scanning tunneling microscope. Journal of Applied Physics, 132, 244901. (Indexed in Scopus and Web of Science), ISSN 10897550.

The college is proud of her achievement!